Available nightly when the kitchen closes, until last call or Tom Waits sings…whichever comes first!
Slice of Pie | 3.00
Cheese or pepperoni – while they last! Add ranch for .50 cents.
Chicken Tenders & Fries | 8.99
A very lightly breaded chicken tenderloin. Served with fries and ranch dressing.
Spinach & Artichoke Dip | 8.29
Served with tricolored tortilla chips.
Basket of Fries | 5.65
Add a large ranch for .95 cents.
Chips & Salsa | 4.99
Fresh fried tortilla chips and Lou's roasted salsa.
Each day we hand-make our "world famous" bloody mary mix from scratch. We start with  premium tomato juice and blend in local horseradish and so many tasty herbs and spices we can't even count that high. Choose your vodka…we've got over 26 options. Garnished with a lemon, olive, and pepperoncini to keep it classy!
Our signature bloody mary…starts with a DOUBLE shot of Tito's handmade corn vodka and our "world famous" bloody mary mix, bacon salted rim, and a virtual salad as a garnish including celery, pickle, beans, asparagus, pepperoncini, and cherry peppers.
Add a Fixin' for yo' mary!
Kobe beef slider on a stick | 3.50
Honey Jalapeno prawns (3) | 3.00
Pepperoni Stick | 2.00
Raw Oyster | 1.50
Bacon (2) | 2.00
Saturday and Sunday – all day!
The classic – only it's much bigger.
Citrus vodka and organic OJ shaken over ice and finished with champagne in a pint glass.
Organic grapefruit, champagne, and rhubarb bitters in a flute.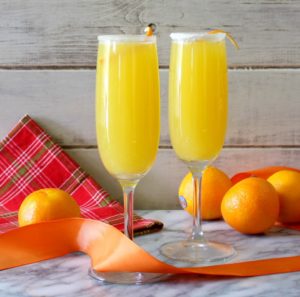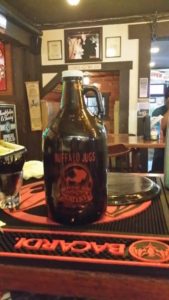 $10 | Buffalo Jug (a.k.a. Growler)
$18 | Buffalo Jug + Fill
$12 | Refill (Bring your own growler up to 64 oz.
$2 off any Bridgeport draft fill!